Exclusive Speaker Interview: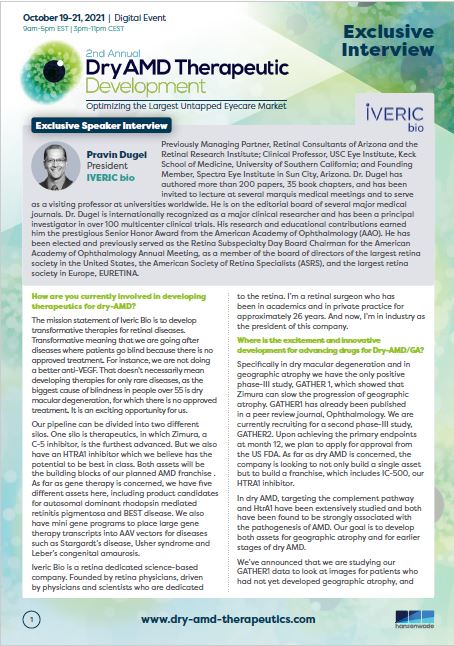 Pravin Dugel, President, IVERIC bio
What do you think the future holds for dry- AMD/GA therapeutics?
In patients with dry macular degeneration, it's really not about visual acuity, it's about visual function. There are lots of patients out there that have visual acuity of 20:20 but are visually dysfunctional because they may be architects or engineers that can't see a straight line or accountants or lawyers that can't read a sentence because of a blind spot. They may be refracted to 20:20 but they may be completely visually dysfunctional. This is particularly important for patients with extrafoveal geographic atrophy. The impact that dry macular degeneration has on patients and patients' lives goes beyond visual acuity and is worth additional drug development...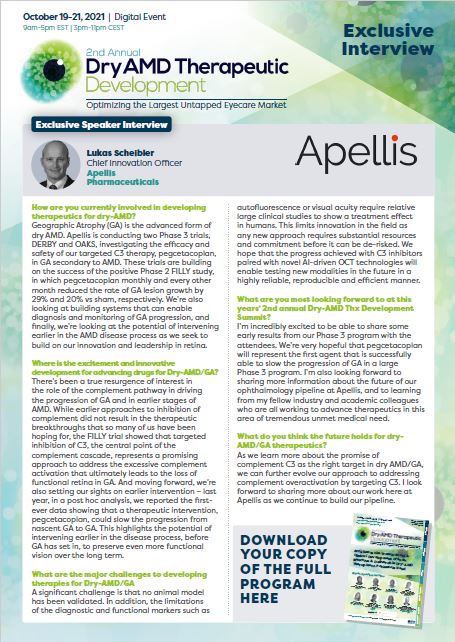 Lukas Scheibler, Chief Innovation Officer, Apellis Pharmaceuticals
What are you most looking forward to at this years' 2nd annual Dry-AMD Thx Development Summit?
I'm incredibly excited to be able to share some early results from our Phase 3 program with the attendees. We're very hopeful that pegcetacoplan will represent the first agent that is successfully able to slow the progression of GA in a large Phase 3 program. I'm also looking forward to sharing more information about the future of our ophthalmology pipeline at Apellis, and to learning from my fellow industry and academic colleagues who are all working to advance therapeutics in this area of tremendous unmet medical need...